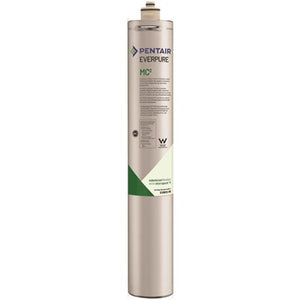 Everpure water filter mc-2 ev9612-06 ev9612-56......2 pack sale! free shipping!
Regular price $170.00 Sale
Product Overview
EV 9612-06 EV 9612-56 
The everpure original MC(2) filter cartridge ev961206-ev961256  delivers premium-quality water for fountain and combination applications. It improves the taste of fountain beverages and helps retain the drink's carbonation. The quick-change cartridge has a 9,000 Gal. capacity, 1.67 GPM flow rate, and is NSF Certified under NSF/ANSI Standards 42 and 53.
9,000 Gal. capacity/0.50 micron rating / 1.67 GPM maximum flow rate
Proprietary Micro-Pure II filtration media with AgION antimicrobial protection effectively inhibits the growth of bacteria on the filter media that can decrease product life
Exclusive precoat-filtration provides superior chlorine, taste and odor reduction, and micro-filters dirt and particles as small as 0.2 micron in size by mechanical means
Reduces chlorine, taste and odor, and other offensive contaminants that can adversely affect the taste of beverages
Improves the taste of fountain beverages and helps retain the drink's carbonation
NSF/ANSI standard 53 certified to reduce cysts such as cryptosporidium and giardia by mechanical means
Protects drink system seals, pump, tubing, and small orifices from clogging, corrosion and abrasive wear
Sanitary cartridge replacement is simple, quick and clean; internal filter parts are never exposed to handling or contamination
Does not remove fluoride
NSF certified under NSF/ANSI standards 42 and 53
See individual system specification sheets for performance claims and FIFRA registration information